Mediante el documento de configuración podemos controlar la mayoría de los aspectos que afectan a la recepción y envío de correo en un servidor Lotus Domino. Veamos 2 interesantes cosas que podemos controlar desde la misma pestaña del documento de configuración. Hay que tener en cuenta que estas opciones afectan únicamente al correo saliente a Internet.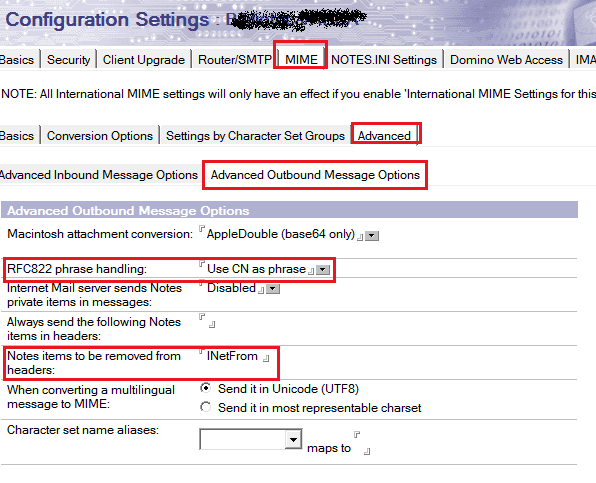 1. Si queremos que la dirección de remita que reciba el destinatario del correo remoto en Internet cumpla con el RFC822, seleccionaremos la opción "Use CN as phrase". El destinatario recibirá como remitente la cadena "Nombre Apellido"


2. A la hora de componer la dirección de remite para un mensaje enviado a Internet, prevalece la dirección de internet que el usuario defina en el documento de ubicación. Ello es útil para poder utilizar múltiples direcciones de remite haciendo uso de un único ID, pero en determinadas circunstancias es posible que necesitemos bloquear esa posibilidad para evitar que la dirección de remite sea "falseada". Deberemos introducir el valos "InetForm" en el campo "Notesitems to be removed from headers."

Espero que sean de utilidad.