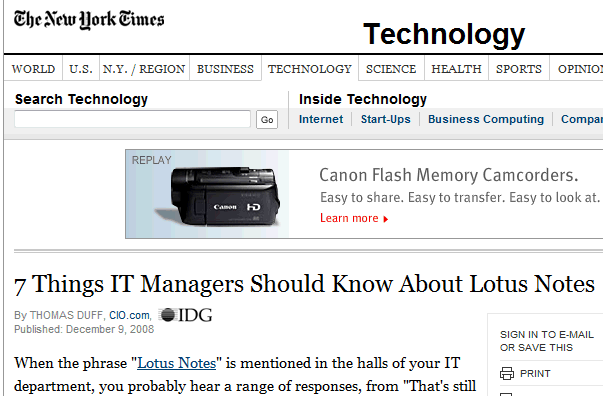 Todo comenzó con el artículo 7 Things IT Managers Should Know About Lotus Notes publicado por Thomas Duff en CIO.com. Thomas Duff es un habitual de las conferencias internacionales de tecnología Lotus Domino.
CIO.com es una publicación online de contenido técnico enfocado hacia responsables tecnológicos de empresas, con artículos orientados a dar una visión de conjunto de las tecnologías o productos software o hardware.

Lotus Domino es, a pesar de sus 20 años de historia, un desconocido para muchos responsables tecnológicos. Con este artículo Thomas intentó explicar los malentendidos que se han ido perpetuando entre los desconocedores del producto a lo largo de los años ( algunos por culpa de IBM y algunos por culpa del marketing de la competencia ). Para ello enumeró 7 puntos fundamentales que explican la tecnología Lotus Domino y mitos alrededor de ella:
Notes es mucho más que "sólo correo electrónico".
Notes y Domino forman una poderosa ( y abierta ) plataforma de desarrollo de aplicaciones.
Notes es el cliente y Domino es el servidor.
Notes tiene un largo historial de compatibilidad con versiones anteriores del producto.
La replicación de Notes permite trabajar conectado y desconectado.
Las aplicaciones Notes pueden ser desarrolladas tanto para el cliente Notes como para navegadores Web.
Notes no "está muerto".
El artículo, posteriormente, fue seleccionado para ser publicado en la sección tecnológica de
The New York Times
y es de recomenda lectura para aquellos desconocedores de Lotus Domino y que quieran conocer la realidad actual del producto
.
Por cierto, que no estaría de más que IBM España tradujera el artículo y lo publicara en prensa nacional. ¿ Por que no en El Pais o en El mundo, o en El Economista ... ? :-)


Thomas "Duffbert" Duff is a software developer with nearly 30 years of experience in IT, covering everything from punch cards and tape drives to cloud computing. When he is not developing Notes-based collaboration applications for a large health insurance company, he's usually reading and reviewing books on his blog,
Duffbert's Random Musings
. He also speaks at software conferences.