Upgrade: Since 15/11/2010 a Symphony 3.0 add-on for Lotus Notes is available on partnerWorld, so this procedure is no longer needed.

I'm a usual Lotus Symphony 3 Beta 4 user. It works quite well, and is quite usable and fast ( A lot faster than Symphony 1.3 that ships with Notes 8.5.2 ). But also as a Lotus Notes user, I'm missing having Symphony embedded in my Lotus Notes client. So I've tried to find a way to install Symphony inside Lotus Notes.

By looking at the files included in the Lotus Symphony installation file "IBM_Lotus_Symphony_w32.exe" you find a file named updateSite.zip. This file can be used to install Lotus Symphony as a plugin in Lotus Notes.

First, you must enable your Notes client to allow the user to install pluings.There are two ways to do this:
Including in \framework\rcp\plugin_customization.ini file the line
com.ibm.notes.branding/enable.update.ui=true
Or by using a desktop policy settings document

It's important to notice that the
desktop policy settings
prevails over the plugin_customization.ini file. And the value in the filed "Allow user initiated updates" in the
desktop policy setting
is disabled by default.
Once enabled ( maybe you should have to restart your Notes client once or twice ), you can install the Symphony plugin through
File>Application>Install
..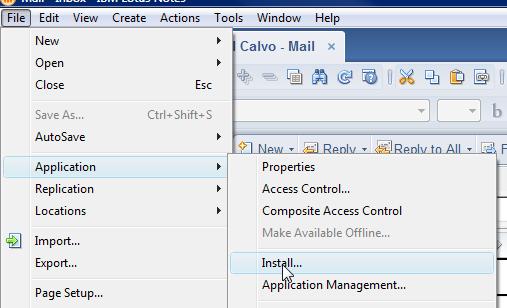 Then we select the option "Search new features to install"
In the next screen we select "Add zip/Jar location..."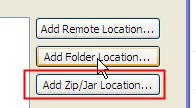 We have to locate the "updateSite.zip" file we've mentioned before.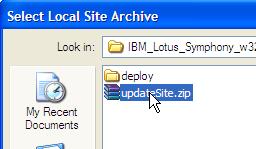 We rename the Local Site if necessary ( we can not have to application locations with same name )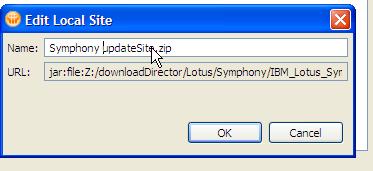 Then we click select the just created "Symphony updateSite.zip" and click "Finish".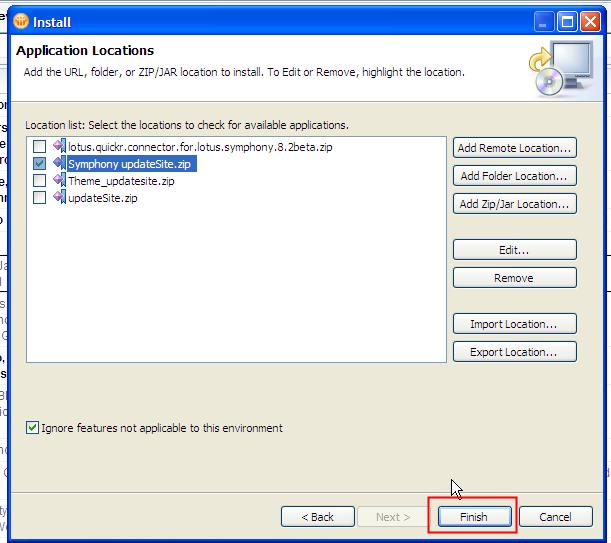 Here we have to select the features to install. All in this case.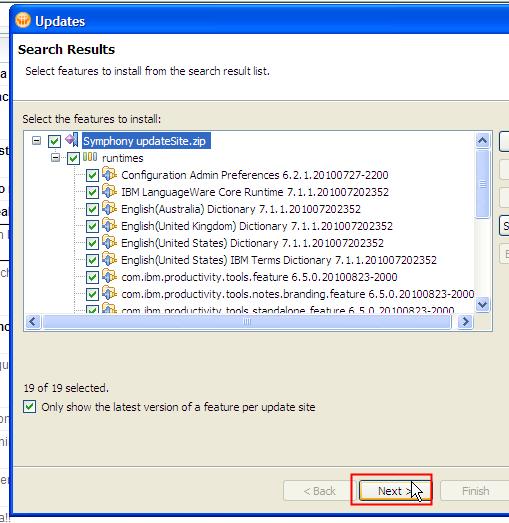 And that's it. The system begins to install the features that compose Symphony and when it finishes, it will ask us to restart our Lotus Notes client. We've got now Symphony 3 embedded in our Lotus Notes client.
But, there are some important caveats. Maybe due to the fact that we're installing a Beta release or because this is not the Symphony thought to be installed with Lotus Notes. The bookmarks bar in the Standard client starts empty but for the Symphony and Home icons. Fortunatelly, everything seems to be ok if we open the Basic client, all our bookmarks are there.
This is a good exercise to see the Notes/Eclipse update capabilities, but to be done in a test environment :-)